I participated in the Mural Open Call PKO competition in 2021.
"Fairy. It protects the city and it is located right in the heart of the city. I want art not to give answers at all costs, but for people to pause and think, to perceive concrete elements, their connection, and also the abstraction that connects them and creates a symbiosis.
A simple composition with a falling figure in infinite space. I tried to create a painting that radiates peace, so I made a design in muted colors that would create a pleasant composition in harmony with the surroundings."
Due to the location of the spot, I sent three different designs that fit in with the built-up area.
While creating designs, I also focused on a wide range of the public and a diverse age group.
The winning design was a composition of my older illustration, which I graphically processed and where I added some details. It was a book illustration of a Fairy that seemed gentle and calm and had the potential to get most of the good responses, which it did in the end.
Since it was a pilot project of PKO, I had to create a painting acceptable to the lay public.
In cooperation with Overtime.sk and PKO, I created a painting in 7 days in the courtyard of the "Čierny orol" in Prešov.
While creating the painting, I used different shades of Montana Black sprays and the final matte varnish.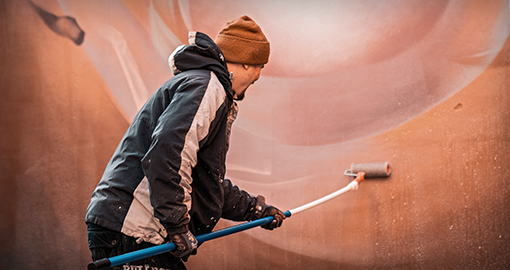 PKO:
Through a public call, the evaluation committee selected three winning designs, which three Slovak artists immortalized on the walls of three buildings in Prešov within a few days.
The implementation of all three murals began simultaneously, on November 5th, 2021. The residents of Prešov can admire the complete execution of these murals for several days already. The aim of the project is to bring art into the public space, to make the unremarkable parts of the city of Prešov more attractive, as well as local cultural facilities where the general public meets. Right here is created the space for the connection and building of various forms of art, culture, and communities.
Murals placed in the underpass of the largest housing estate Sekčov, on the wall of the building of folklorists working in KZ Družba, or in the courtyard of the "Čierny orol", will emphasize the character of the modern and tourist-attractive city until now, which Prešov is. Passers-by can take pictures with the murals, explore interesting artistic motifs, or just stop by them for a moment and perceive the composition of art and public space. The implementer of this whole initiative – the Park of Culture and Recreation wants to support the development of culture and innovation in the city of Prešov in this way.

https://www.overtime.sk